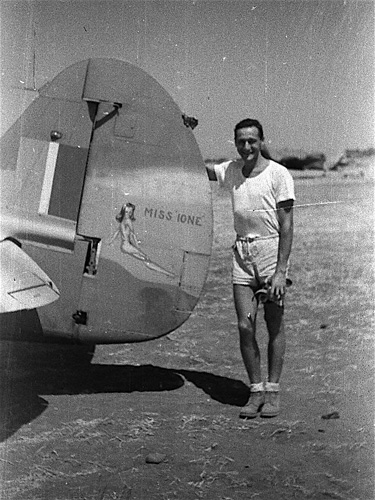 Aircraft were invariably named after wives and sweethearts.
Painting squadron insignia on a newly acquired bus. Fran Hudlow says: "I used to drive that bus, there is a story behind it. I took trips in Sicily, hauled guys on R&R. We had two Italian guys that were captured, we found out they were Diesel Mechanics so they just kept them to keep the bus going, always wondered what happened to them. Same bus we had in Grosseto Italy, brought it with us."
Squadron painter, Alvin Soloman.
Major Maurice L. Dyer, HQ Engineering Officer.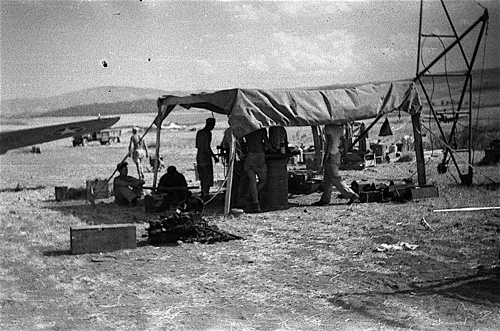 Repair Station.
The bulldozer that scraped out our swimming hole.
Eddie and someone by our place at Scordia. Our swimming hole is in the foreground. My tent is the little one.
Eddie and Smitty.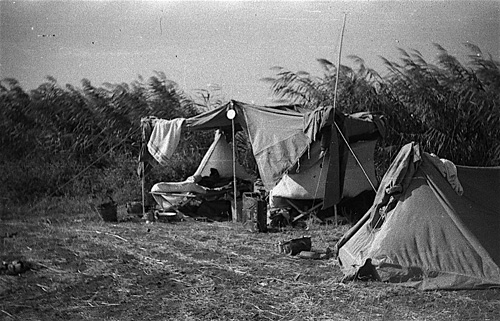 Living quarters were pretty informal.
Life in Sicily was different from life in the desert. Here pup tents began to show up. Note E.P.I.P. tent in the background.